Capurso, Italy – 1998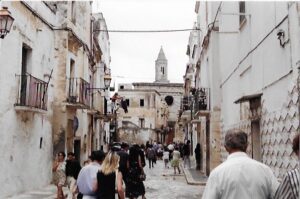 Before Jason and I got married, when we were still dating, I took my first trip to Italy with him. I had never been out of the country before. It was August of 1998, and we planned a trip to visit his Italian grandparent's with his mother and sister, who were coming from Knoxville. We were in Memphis, so we planned to fly into Rome and then take the bullet train to Bari and another train to Capurso and stay with Jason's grandparents for a few days and then go back to Rome for a few more days before we came home. Jason's mother, Rosa, was born in Capurso and her parents still lived there. This trip was a first of many for me and even though we didn't know it at the time, it helped shape our future together. 
The first morning in Rome, we woke up and went downstairs to the breakfast room. We sat at a table by an window that was open. I was filled with joy and excitement when I looked out the window and saw an open air market right there in the middle of the street! I saw tables with beautiful bright colored flowers and other tables of vegetables with colors that rivaled the flowers next them and the sounds of people chattering in the streets. As soon as we finished our breakfast, we went outside and into the market. I was in Italy and I was in heaven. This was the best trip ever and it had just begun. 
The bullet train was fascinating to me. I had never been on a train ride before and definitely never ridden a high speed train. We were seated and proceeded to drink red wine and watch everything pass by so quickly. The scenery changed as we moved farther away from Rome and through the countryside to Puglia in a few hours. 
When we arrived at his grandparents house, we were greeted by a whole bunch of people in their courtyard. It was his grandmother, grandfather, cousins, and second cousins and I did not speak Italian and at the time, did not understand any Italian. It was strange for me, but it was also exciting. I couldn't believe that I was in another country surrounded by people that did not speak my language, but luckily Jason did! I thought it was so wonderful that his mother was Italian and that she was born here and grew up here with her two sisters. I thought how incredible it was for Jason and his sister to have this heritage. It was not so strange for Jason because he had been here before and new all of the faces. This was his family and he was no stranger here. He was at home and he was my guide. 
Jason's grandparents lived in an apartment building close to the Reale Basilica in Capurso. 
His Godparents, who lived in Dallas,Texas, still had a house in Capurso a few streets away and planned to be there when we were, so Jason and I spent the nights at their place while Samantha and Rosa stayed with his grandparents. There wasn't enough space for all of us at his grandparent's place. This worked out well for us because his godparents spoke English and were very cool and laid back and they had air conditioning! It was so hot! They lived in a two story house with marble floors and high ceilings with ceiling fans and had lemon and lime trees growing in the backyard. I loved it! We would end up going to bed before them every night and leave them drinking beers and hanging out with their old friends. In the mornings, I would wake up to the smell of espresso calling me downstairs. We would go downstairs to find them sitting at the breakfast table with a fresh moka pot of espresso, fresh figs and cactus pears that had just been picked, and pastries, lots of small delicious little pastries. What a perfect breakfast! Then we would walk over to his grandparents house and pretty much do the same thing again. Drink espresso, eat figs and pastries. That first day, I drank so many espressos that I finally realized my heart was about to beat out of my chest and I needed to get out and walk. I had never had espresso before this trip and I definitely had too many that first day, but I have had it every day since then. I never went back to drinking coffee. I bought a tiny moka pot, a set of brown ceramic espresso cups with saucers, and some espresso to take home! That afternoon we walked around the town and visited more cousins that weren't there the day before. We bought a bouquet of flowers for practically nothing from a little florist on a corner and walked to the cemetery where I had a history lesson on his family. This cemetery is at the edge of town and is enclosed with brick walls and a gate at the entrance. Once inside, it was like a hidden garden. It was so serene. We spent a few hours there listening to his mother talk about their family members. Jason's grandmother had a brother that was a local artist. I saw where he was buried and had already heard a lot about him because he was an artist and so was Jason. I am pretty sure that his mother was certain Jason had inherited his ability to draw and paint from him.  As we walked through the town to get to the cemetery, Rosa had pointed out frescos that he had painted on a few buildings.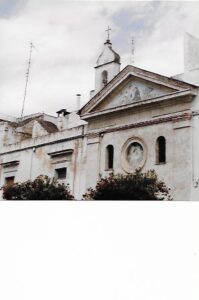 His name Michelangelo Buono and one of his biggest accomplishments was he painted the inside of the Reale Basilica. We walked past the grade school she went to with her two younger sisters. We walked down a side street and Rosa stopped and pointed to a balcony and said she was born in that room right there.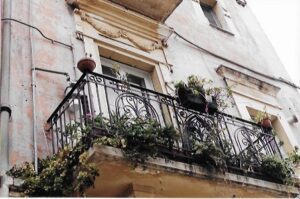 There also happened to be a festival going on. The first two days we were there, there were people all over the place. There were cars parked everywhere and people walking around. You could hear people talking outside of his grandparents house and there was a small fair set up down the street with a ferris wheel and a pirate ship ride. It was the *Festival of the Madonna del Pozzo and people had come from all over Italy for that weekend. There were street vendors set up down the main road and there were arches of lights all over the town.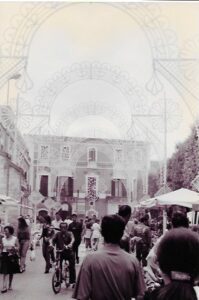 This normally sleepy little town was fluttering with people and excitement. We walked over to the rides and we talked Jason's mom into riding the pirate ship. She didn't want to. She said she was afraid of heights and I told her it just goes back and forth. It's not scary. Well, we sat in the very back of the ride and it went so high up in the air, she was screaming and her face was scrunched up. She was holding on for dear life and I couldn't stop laughing.
We walked around the town and haggled with people selling jewelry and sunglasses. We bought olives from a street stand that had twelve different kinds of olives in colors and sizes. His mother warned us not to buy more than we would eat. I told her not to worry. There was a old gypsy lady playing an accordion with a monkey on her shoulder in the middle of the crowd. Jason's grandmother got out of the house and got into all of the action going on one day. I watched her talk with other older ladies in the street and she was so happy to have her daughter there with her. You could see it in her face. I would just smile at her. That was all I could do. I told Jason to tell her that the next time I saw her, I would know how to speak Italian, but unfortunately that never happened. She passed away. We went inside the Reale Basilica and saw the gorgeous paintings that Michelangelo had done. I couldn't take pictures because there was a service going on. There was a huge procession of the madonna from one church to the Basilica. We followed it like everyone else did and were caught up in the crowd. There were people drawing the Madonna with chalk on the streets. These were huge chalk paintings that were so colorful and bright.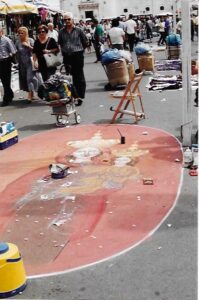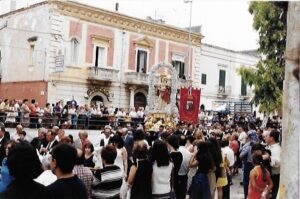 We ate every meal at his grandparents house and every meal I ate so much until I was uncomfortable and I would whisper to Jason that I was so full, I couldn't eat anymore while I was rubbing my stomach. Later on, I found out that his grandparents thought I was pregnant because we kept whispering and touching my belly. One day, Jason mentioned that he hadn't had any octopus yet and his grandfather left and came back shortly with a plastic bag filled with live octopus. I watched Jason and his mom cut a little piece off and eat it raw. She said not to eat too much raw, that she would cook the rest. I was a vegetarian at the time, so no octopus for me. They also had a 20 gallon glass jug of olive oil in the kitchen pantry that they would pour smaller amounts of into a smaller container. It was so green and it was so aromatic that I smelled it the instant they took the cap off. I couldn't believe how fresh it was.
Another day a cousin, that happened to have a large van, drove the four of us up the Adriatic Coast to Mola di Bari to a place we were told had the best focaccia around. We ordered a whole loaf since there were five of us and a whole one had six pieces. It was fresh out of the brick oven and it was so good. We were all moaning and groaning about how good it was and who was going to eat that last piece. I saw his sister trying to eat her piece quickly so she could get it and I finished mine first and snatched that piece up and took a bite out of it. It was mine and I was not sorry. We had focaccia from other places while we were there but it was not as good as that place.
We said our goodbyes to his grandparents and took the train to Bari with his mom and we walked around the town. We ate gelato and shopped. There were so many clothing and shoe stores in Bari. We ventured into the Old City and into the Basilica di San Nicola and then we headed back to Rome, leaving his mom and sister there for a few more days.
Here is a link, if you want to know more about the well and the story of the Madonna